What Are Your Women Students Not Saying?
I believe that the fastest ways to get people to take themselves less seriously is through laughter.
Yes, Our Bodies, Our Shelves is funny. How can it not be? Pelvic exams are just plain weird. Teaching them is even weirder. This show tells the story of that weird experience—in order to make it less weird for everyone else.
So perhaps this might be a funny weird and not always a funny haha—but Our Bodies, Our Shelves is a light-hearted story about a young woman (me) finding a way to understand her body and her self. This show embodies the old adage "We teach what we have to learn." 
By now, you're curious. Learn more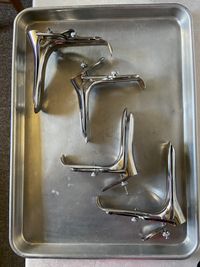 More Than a Show...This Is a Conversation
Our Students, Our Conversation
I open each event with the short staged monologue of Our Bodies, Our Shelves. The rest of the event runs as a talk-back session to answer questions, facilitate conversation, and frankly, lighten up. 
Every event is different. Depending on the size of the audience, this can be run from the stage or broken into smaller discussion groups where I'd roam the room and check-in. Depending on the makeup of the audience, we could discuss modern medical care, explore societal or personal issues, or even talk theater craft about how to create and tour a solo show.
My job is to create a safe space to open and guide a fruitful exchange of ideas.
Our Conversation, Our Community
Yes, this is a show about women's health—or at least women's healthcare. The goal of this event is to have a robust discussion about what this means for today's college students. Having as much diversity in the audience as reflective of your campus—including gender, race, class, ethnicity, politics and age—gives us that much more insight about how women's health is understood right now. Everyone is welcome!
Thanks for Crashing the Hope Party! I respect your privacy.
© 2023 Hope Lafferty