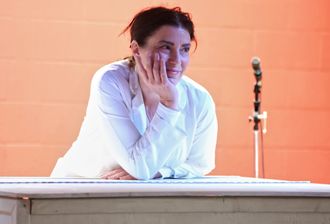 Meet Hope Lafferty.
Physical Memoirist. Festival Comic. Juggler for Wellness. Puppeteer. Clown.
Okay, so I'm late to the party. I did this stuff as a kid. Like, professionally. But I had other things to do. For a number of decades. Then I realized something was missing from my life. That something was play.
At 51, I started studying acting in earnest. Theatre Lab in DC. The Center for Movement Theatre there too. Kennedy Center Playwriting Intensive. Landed a university job teaching playwriting. Founded a theatre company. Toured a bit. Hosted a theatre festival (FRINGE MARFA y'all). Debuted my first solo show. Took this all very seriously. Pandemic hit. Pressed pause. 
All that was a lot of work. Didn't start to really play till Dell'Arte International School of Physical Theatre. When they forced me. It took.
CrashMat is the HQ of my theatric work, the reimagining of my short-lived experiment Marfa Theatre Incubator, and the reaction formation of the two broken wrists I endured prepping for Dell'Arte finals. My family of origin finds no humor in the logo above or the company name. Everyone else gets the joke. Totally on brand.
I'm happy we found each other. Come to a show sometime. Tell me about your work. 
& Welcome to the Hope Party! As they say: better late than never. And I never say never. Let's have some fun!
People Are Talking...
Critics are talking…
INHBITIONIST(!)
…Hope is able to dive deep into her own story of self-discovery in a way that the rest of us might not be able to and then share it with the audience in a way that is very relatable and moving—but also funny. (King's River Life Magazine, Fresno 2023)
...made an impact.. Sounds (and looks) intriguing.. (The Munro Review, Fresno 2020)
...uplifting, hysterical, and at times heart-wrenching. (King's River Life Magazine, Fresno 2020)
Audiences are talking...
 Our Bodies, Our Shelves
I've been married. I have a daughter. And I had no idea that this is what women go through as a regular check-up. I feel foolish. And I thank Hope for bringing these issues to my awareness. (after debut at a burlesque night, 2022)
Thanks for being so brave and putting yourself out there like that. I had a row of dude-bros sitting behind me, and it shut them the f*** up for a minute. (after show at a burlesque night, 2022)
You had them eating out of the palm of your hand. Is it okay to put it like that? (after a comedy open mic, 2023)
Wow! Amazing! I have more questions than answers and I really didn't want the story to end. (FronteraFest, 2023)
INHIBITIONIST(!)
Surprising and impressive. One of my favorites of this year's Rogue. (Fresno, 2023)
Very intellectual and fascinating. Hope is a great performer! (Fresno, 2023)
Story-telling done well! Not full of belly laughs or cursing, just nice, funny situations. Recommend highly. (Fresno, 2023)
The levels! The metaphors! So rich, both texturally and physically. Definitely takes time to sink in. (Utah, 2023)
Hope takes us on a journey. I was thrown back to my childhood and found myself weeping and laughing at the same time. (Utah, 2023)
Hope could have committed murder on stage and the audience would have been right there with her. (Fresno, 2020)
People Are Taking Pictures...