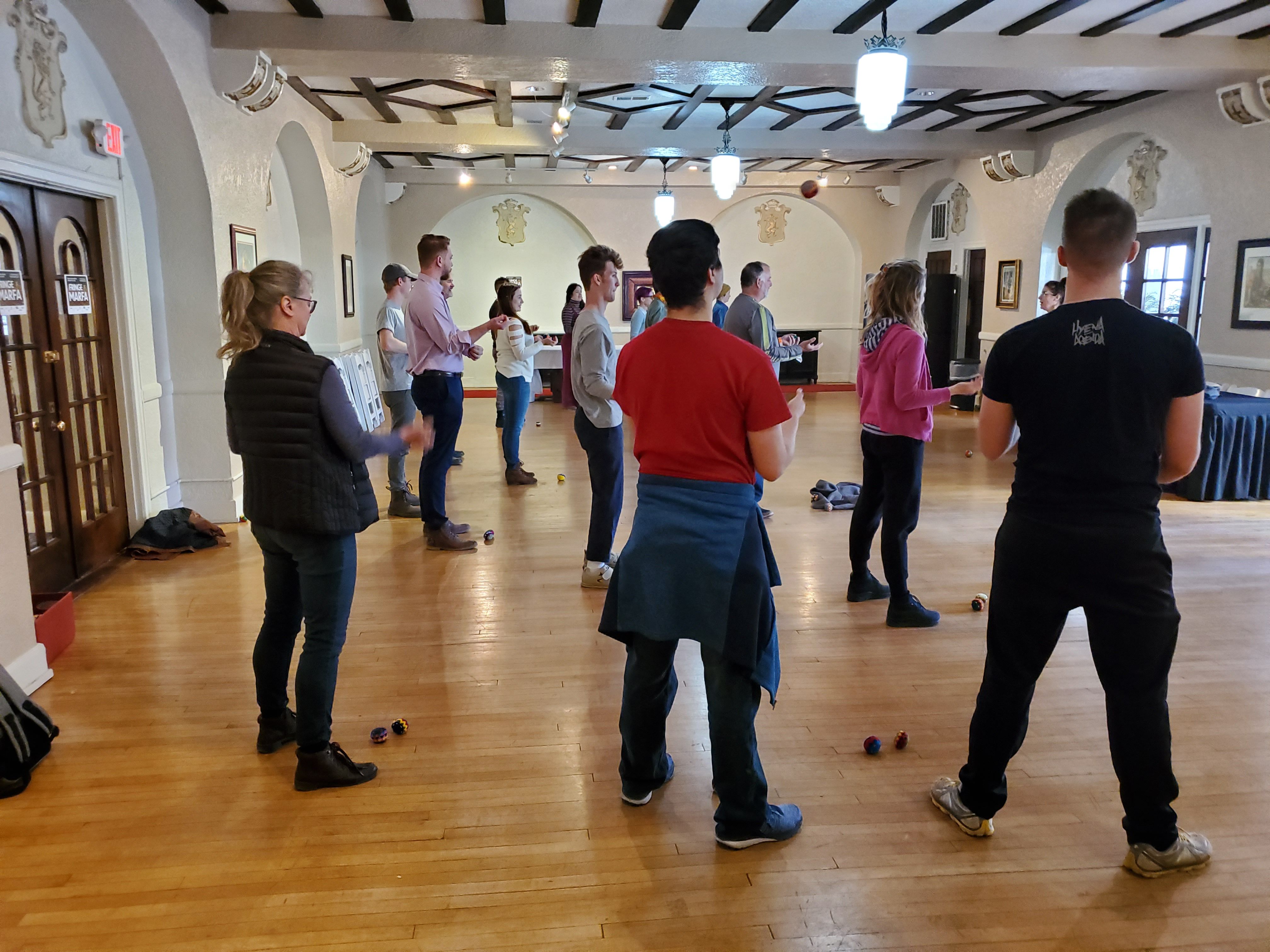 ...Learn to Juggle 
I thought he was kidding. 
Thanks to Tim Ferris's newsletter Five Bullet Friday last week, I decided to preorder Seth Godin's latest book The Practice: Shipping Creative Work. 
I am never an early adopter. Even though music is one of my love languages, I resisted buying a CD player till vinyl was no longer an option.* Because I didn't want to wear a carpenter's belt of a million devices, I didn't get a cell phone till the iPhone came out (the second iteration, to boot). I drive stick. 
So I'm not one to read a book hot off the press. 
Long-time Listener, First-time Caller 
As a fan of Mr. Godin's work, I check my Kindle daily. I cannot wait to have this promising book show up in my library. The title alone dovetails with the new direction of my work. I am already eager. 
Then I start reading. 
Have you ever been so excited by what you're reading that you have to start pacing around the room? Even typing right now, my keyboard is giving me shocks because of the energy running through my body. I can't quite believe what I'm reading. 
I'm barely 5 minutes into the book. I read this sentence at the top of a paragraph: 
Learn to juggle. 
I chuckle. I highlight it. 
I figure Mr. Godin chose that because it's an outrageous example of creativity. Maybe that's why. But—spoiler alert—a few pages later he goes on to instruct his readers how to, in fact, learn to juggle. 
Where Have You Been All My Life? 
So word is getting out. There are a bunch of closet jugglers out there ready to be outed. Maybe not outed. But recognized. 
As part of my Life After Wellness experiment, I've begun seeing a chiropractor. If you read my first post in this series, you won't see chiropractic in my litany of self care. 
Again, late adopter. 
My major life shift this year has left me with an enduring elbow pain. I initially blamed the lack of monthly massages on its existence. However, when 4 weeks of therapeutic massage didn't make a dent, I blamed my divorce. (No injury, folks. Just the phantom pain of that relationship lodging itself in my funny bone.) 
So I went to a chiropractor. Wonderful woman. Really enthusiastic and engaging and encouraging. Smart. She helped me relax enough that I got choked up. She's a keeper. 
When discussing my goals, I expressed that I wanted to get back to juggling. 
She hesitated. 
People often hesitate when I admit that I juggle. Like they didn't hear me right. Like they can't believe that I could juggle. That anyone walking around town in the middle of the day can juggle. Or at least admit to it. 
"It's been a long time but," she said, "I know how to juggle." 
Of course she does. 
Later that day, my nephew joked with me that only I could find the one chiropractor in town who also juggles. 
Like I said, she's a keeper. 
The Practice 
You might guess that I had to stop reading because Mr. Godin's book inspired me to write this week's article. I had planned to write one, but his book further inspired me to change the topic of the article. 
I had not planned to mention that I juggle this early in the series. Or that I have a whole method infused with brain science that I'm pursuing. Or that I run workshops and wonder what the long-term practice of juggling can do for cognition and coordination. 
After all, this is LinkedIn. Facebook can handle juggling. LinkedIn? You tell me. 
My theatre friends think that I teach people how to juggle. It's the medium, but it's not the message. Mr. Godin gets it. It's the process. It's about staying present. It's the practice. 
Let's face it. No matter how good a juggler you are, gravity will always win. 
It's humbling that way. 
I juggle as well as I meditate and as well as I write. Meaning: I'm always working on it. I'm never there. I'm not exceptional. 
It's the practice. 
But that's the point. 
Postscript 
If you want to try juggling, pick up a copy of The Practice: Shipping Creative Work. Mr. Godin offers excellent instruction. 
My method differs slightly, but feel free to watch what I posted on my birthday this year. 
Balls not included. 
*Yes. I'm old.
(originally published November 5, 2020, as an article on LinkedIn) photo by Grant Evan Knutson @ FRINGE MARFA 2020